The Quadratic / Round Bits and Cape Chicels are cutting and grinding tolls used in the machining. They permit sharpening for various applications. They are made from HSS-M2 steel with 10% of cobalt, providing greater resistance to high temperatures and wear, without losing the cut.The products permit machining high-, medium-, and low-carbon steels, stainless steel and sponge steel.
Compliant with DIN 4964 standard with H14 tolerance, hardness 63 thru 67 HRC.
Quad Bits HSS / HSCO -10% Co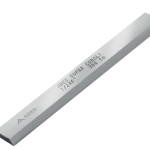 Cape Chicels HSS / HSCO 10% Co
Round Bits HSS / HSCO 10% Co
Special dimensions and tolerances, out of the norm, are available on request.
Note: BITS AND CAPE CHICELS can be damaged during rough grinding. Do not use very hard emery and the same must be clean, there should be no exaggerated pressure of the grinding wheel against the fast steel tool and cooling should be adequate.